What is Etizex?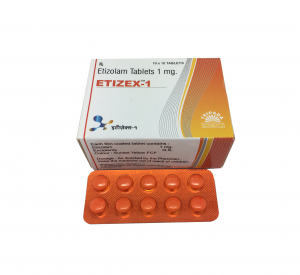 Etizex is an official trademarked brand of Etizolam tablets. Each film coated tablet contains pure Etizolam powder and comes blister packed for freshness and reliability. Etizolam is an interesting class of thienobenzodiazepine, which would normally be classified into the commonly prescribed Benzodiazepine class.
Due to the fast elimination half-life and quick metabolism, the relative risk of accumulation within the body is low. This made Etizolam a key candidate for research purposes. Etizolam is used in various countries to combat short-term insomnia, anxiety and panic disorder.
Key Benefits
Produced by globally recognized Pharmacy (Tripada Bio-tech Pvt. Ltd.)
Packaged in aluminum blister packs
Known throughout the Etizolam community
Distinguishable by the orangle colour of the pellet.
Etizolam is a medically and scientifically recognised as an anxiolytic, sedative-hypnotic and antidepressant compound. Etizex is a branded form of Etizolam, distributed by Tripada Bio-tech Pvt. Ltd. in India.