How to Pay with Bitcoins
GET A 15% DISCOUNT WHEN PAYING WITH BITCOIN!
 Anonymous payments, zero transaction fees and its Quick and easy!
Want to reduce costs, stay anonymous and get a 15% discount?. For those of you who already use bitcoins or have a bitcoin account / wallet, you can send payment to our bitcoin address supplied in checkout from any wallet. The instructions below are a guide for newbies to bitcoins. You can purchase bitcoins from localbitcoins.com instantly from other users with paypal, bank transfers, cash deposits, PaySafeCards, Western Union and many more options without having to varify your account with ID. Below we provide a step by step guide, how to purchase bitcoins on localbitcoins.com and send it to us.
Firstly, select the products you wish to purchase from our website as normal, adding to cart, then proceed to checkout and select Bitcoins as your payment method, confirm the order and you will then be provided with our bitcoin address and the amount to send in bitcoins. which will look something like this :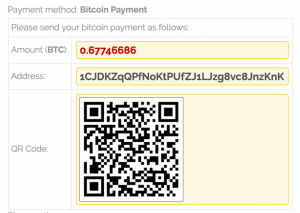 Then proceed with the following 6 steps :
Step 1.
Register an account with LocalBitcoins. You get a free and secure online bitcoin wallet. No additional apps are needed. If you already have an account, skip to the next step.
Step 2.
Go to the main page and in the search box fill in the form with the amount you want to buy in your currency, your location and choose a payment method. If you're unsure how you want to pay, choose "All online offers" as your payment method. The site will list bitcoin traders available in your region.

Step 3.
From the list of offers, choose one from a trader with a good reputation score and a high amount of trades. The online indicator shows if a trader is online right now (green), inactive (yellow) or offline (gray). You can click the 'Buy' button to view more information about an offer.
Step 4.
After you press the 'Buy' button you'll see more information about the offer, including the terms of the trade. Read through them before submitting the trade request, if you don't agree with them you can go back to the previous page and choose another offer.
To start the trade, type in the blue box how much you want to buy, enter a message for the seller and click the Send trade request button to the start the trade. Be sure you're ready to pay when clicking the button, if you don't pay before the payment window is over, the trade will be automatically canceled.

Step 5.
Once you have made the payment, click the mark payment complete button. Once the trader has verified that your payment has been received your Bitcoin will be released from escrow and they are instantly available in your LocalBitcoins wallet.
And that's all there is to it, congratulations on your first Bitcoin trade!
Then you have purchased your bitcoins which will be in your wallet ready to send to us. Now just go to your LocalBitcoins Wallet on the left-hand side you will see send bitcoins like the image below :
 Step 6 – Pay for your order.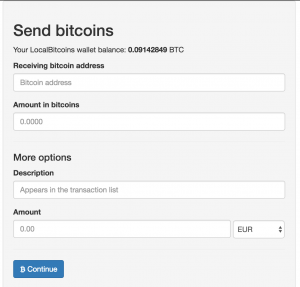 Enter the bitcoin address  and the exact amount of bitcoins provided by us in checkout and hit continue and your done!
Normally within few seconds or minutes, the payment should arrive at our bitcoin address. Our system automatically finds the payment and notifies us that your payment was successful. Your order will then be updated and processed, Its as simple as that!.. Your 15% Discount will be automatically added to your order when you select bitcoin as payment method!
we are not affiliated in any way with this bitcoin exchange. we simply choose it due to the ease of purchasing bitcoins.
Please note that our bitcoin address will be different for every transaction, so always check out to be provided with the correct address to send to – if you have any questions feel free to contact us!